TiviMate is a popular IPTV player application by Armobsoft FZE that provides users with a smooth and seamless streaming experience. With its user-friendly interface and the ability to play live TV channels, shows and entertainment channels, TiviMate has quickly become a popular choice for those who want to watch their favorite TV shows and live channels on their Smart Televisions.
However, one of the key features of TiviMate is its channel list, which can be a bit confusing for new users. In this article, we will explore the TiviMate channel list and provide tips for getting the most out of this feature.
What is a TiviMate Channel List?
A TiviMate channel list is essentially a list of all the channels that are available on your IPTV subscription. These channels are grouped into categories such as sports, news, entertainment, and more, making it easy to find the content you want to watch. The TiviMate channel list also allows you to arrange channels in the order you want, so you can have your favorite channels at the top for quick access. You can enjoy Tivimate Premium Account Free.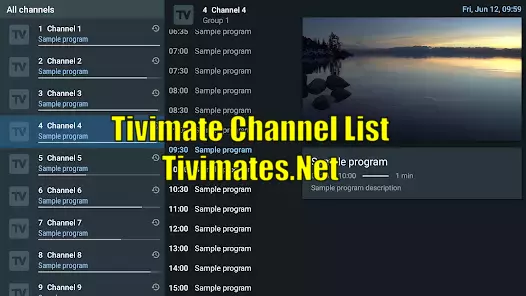 How to Get TiviMate Channel List Free?
TiviMate is simply a player, it does not come pre-loaded with any channels. To access channels, you will need to purchase an IPTV subscription from a separate provider and then load it onto the TiviMate player. Unfortunately, you will not be able to find any information on IPTV providers within TiviMate. You can download Tivimate Premium APK 4.5.1 from here.
How to Create a TiviMate Channel List?
To create a TiviMate channel list, you first need to subscribe to an IPTV provider that offers TiviMate as one of its applications. After subscribing, you will receive a playlist file from your provider, which will contain the channels available on your subscription. Do you need help with subscribing for Tivimate Premium Account? checkout How to Pay for TiviMate Premium Account.
To import this playlist into TiviMate, follow these steps:
Open TiviMate on your device.
Go to the "Settings" section.
Select "Playlists."
Tap on "Add Playlist."
Enter the playlist URL you received from your IPTV provider.
Give the playlist a name and select "Save."
Once the playlist is saved, you can now access the TiviMate channel list and start streaming your favorite channels. Also checkout How to Install TiviMate IPTV Player on Firestick.
Customizing Your TiviMate Channel List One of the great things about TiviMate is that you can customize your channel list to suit your preferences. Also checkout The 7 Best Free IPTV Apps. However, to do this, follow these steps:
Go to the TiviMate channel list.
Tap and hold on the channel you want to move.
Drag the channel to the desired position in the list.
Repeat this process for all the channels you want to rearrange.
Tips for Getting the Best Results from Your TiviMate Channel List
Organize Channels by Categories: To make it easier to find the channels you want to watch, it's best to organize your TiviMate channel list by categories. This way, you can quickly access channels in the same category, such as sports or entertainment, without having to scroll through the entire list.
Use Search Function: If you're looking for a specific channel or show, use the search function within TiviMate. This will help you quickly find what you're looking for without having to navigate through the entire channel list. Now you can enjoy Tivimate Lifetime Subscription.
Update Your Playlist Regularly: It's important to keep your TiviMate channel list up to date. Make sure to check your playlist regularly and update it with any new channels or changes to your subscription. This will help ensure that you have the most current list of channels and avoid any issues with streaming.
Final Words
In conclusion, the TiviMate channel list is a great feature that provides users with easy access to all their favorite channels. TiviMate is a powerful IPTV player app that offers a comprehensive channel list for users to access their favorite channels.
With its user-friendly interface, easy navigation, and customizable options, TiviMate provides a seamless streaming experience for its users. Whether you are looking for live TV, movies, sports, or news, TiviMate has got you covered with its diverse channel selection.